The Autonomous Blue Prints captures a story of creativity in the culture of music and art. Each print created has its own number and characteristic meaning no garment will ever be the same.
The Brand is pushing the notion of Sustainability in Denim production to the next level. The denim pieces are expressive, artistic and unique. These are all made from factory scraps.
Organic cotton and Bamboo fabrication compliments the recycled Denim to produce a series of shirts, shirt dresses, jumpsuits, trousers and jackets that are unisex in their approach and timeless in their design.
"Our process defines our garments, that's why each appliqued garment will be numbered and will be different to the next. Offering our customers a bespoke product that has been responsibly produced"
Kim Stevenson – Creative Director/Founder
Stevenson is an example of a designer who is conscious of a customer and conscious of a responsibility to create with an environment in mind, whilst never compromising on the expression of creativity.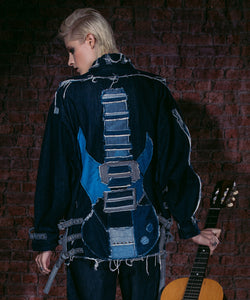 Blog
---
Book your tickets for the next Sustainable Fabric Expo.
F O L L O W U S O N I N S T A G R A M